The Era Of One Queen In Hip-Hop Is Over
It felt like only one female rapper at a time could thrive in 2010. But more women were shining by the end of the decade.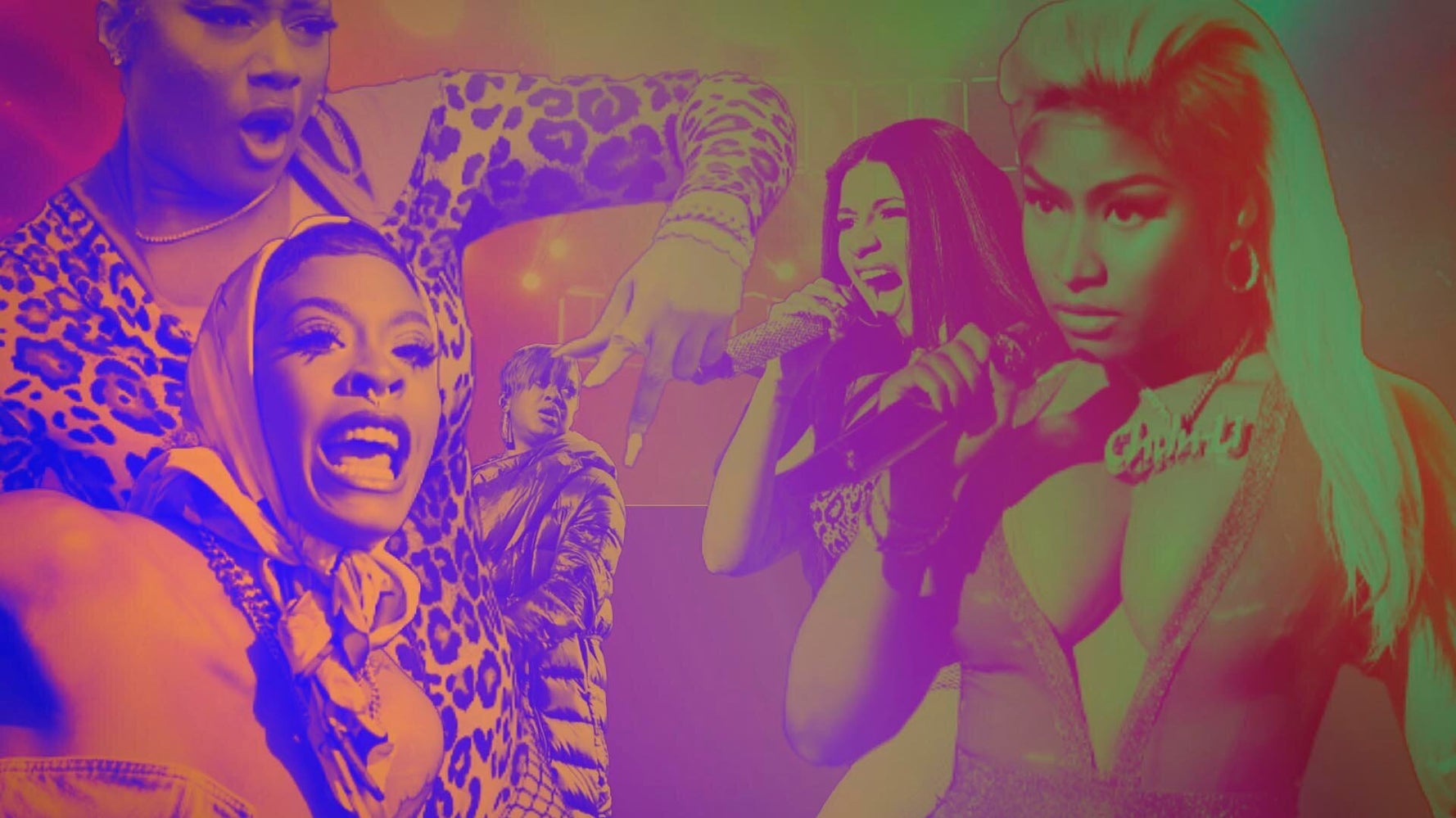 It felt like only one female rapper at a time could thrive in 2010. But more women were shining by the end of the decade.
"Farewell To..." is an end-of-decade series that explores some of the biggest cultural trends of the last 10 years. HuffPost's culture team says bye to the celebrity feminist litmus test, so long to lily-white and mostly male literary institutions, RIP to the movie star, and more.
The 2010s are ending on a high note for women in hip-hop. Cardi B surpassed her prescribed 15 minutes of fame to become America's favorite cover girl. Noname is teaching the babies with her book club. JT of the City Girls is free. Megan Thee Stallion is empowering us to let out our inner hotties. Doja Cat is making music videos interesting again and reminding us that she's more than just a cow. Missy Elliott is finally getting the accolades she deserves.
These ladies are not only in their bag but in your favorite male rapper's, too. Yet at the start of this decade, it was almost unimaginable to think that this many women would be able to thrive and climb the hip-hop ladder at the same time.
The beginning of the decade belonged to Nicki Minaj. 2010 marked her big breakout moment. She turned the corner in the late aughts from freestyling in staircases to signing on with one of the hottest up-and-coming rap labels at that time, Lil Wayne's Young Money. Men were dominating the mixtape game back then and the quality of EPs began to sound more like albums, but Nicki had the streets' attention with 2009's "Beam Me Up Scotty." By November 2010, it was evident that the Queens, New York, rapper would become the oasis of estrogen hip-hop desperately needed. That year, she dropped her debut album, "Pink Friday," and arguably the best feature verse of the year on Kanye West's "Monster."
She spent the year giving us a preview of how she would go on to dominate the charts both with her own singles and with feature performances on some of the most notable records of the time, including "All I Do Is Win" and "Bottoms Up." By the end of 2010, her album had become the first album by a solo female rapper to reach platinum status in eight years, kickstarting her reign.
This was just a first glimpse at Nicki's potential. With her colorful theatrics and lyrical agility, she was able to do what so many women in rap couldn't for a while: She secured a place in hip-hop that would lead to longevity, massive crossover appeal, business ventures aplenty, awards and a record-breaking 106 songs on the Billboard Top 100 Hits. But for a little more than half a decade, it seemed like she would be the only female emcee to get the shine she deserved.
Minaj wasn't the only woman rapping, but she was the only one audiences and the industry were paying attention to. Compared to the '80s and '90s when there were more than 40 women signed to major labels, in 2010 there were just three: Minaj, Diamond of Crime Mobb and Trina, who parted ways with Slip-N-Slide Records later that year. The early to mid-2010s felt bleak for women in the game. Missy Elliott, who took a break from rapping to take a seat in the production chair, was diagnosed with Graves' disease; Lil Kim was still working through and recovering from contract issues with her previous label; and Remy Ma was still in prison.
"We've gone backwards," MC Lyte said in a 2014 interview with NPR, commenting on the state of women in hip-hop. "This is pretty much what it was like when women weren't able to get major recording and release opportunities."